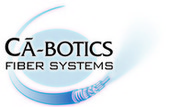 The Technology: The CLR - Cable Laying Robot
Every city contains an extensive network of sewer pipes. CA-BOTICS offers a revolutionary means to transform this sewer network into a modern, wide-band telecommunications network. The method that makes this magic possible is a robotic machine - the CLR, or Cable Laying Robot - which remotely installs optical fiber cable into inaccessible sewer pipes. The robot is small, fast, and produces what is known as a Smart Sewer™. Utilization of existing sewer pipes/conduits confers many advantages.
The net result is faster, cheaper, more reliable technology for extending power and benefits of high speed internet access through a metropolitan area. And the CA-BOTICS team ensures all installations are done to the highest standards in the industry, providing second-to-none training and technical support to all of its Technology Licensees and Certified Contractors.
With its high productivity and efficiency, the CA-BOTICS technology is unmatched in the industry, bringing large financial savings and making it the most desirable solution on the market today.
Convenience
Avoids the need for unsightly, costly and disruptive excavation work.
Project Timeline Accuracy
Ensures the timely completion of projects by using a method unaffected by weather.
Utilizing Existing Piplines
There is an extensive network of underground waste water pipes (sanitary, storm or combined sewers), abandoned water mains, and abandoned gas mains. These pipes are valuable assets for fiber optic installations using the STAR technology.
Latest Technologies
Eliminates the costly and time consuming process for procuring permits or licenses required by conventional methods.



CA-BOTICS: a world leader in state-of-the-art fiber cable installation.
Utilizing a powerful, cable laying robotic technology and existing metropolitan networks of sewer pipes and conduits, CA-BOTICS brings wide-band access through fiber optics to entire cities - at, previously unimagined, standards of speed and cost-effectiveness. Already proved in Europe, Asia, and North America, this technology represents the future of cable laying. Explore our site and discover the wonder of CA-BOTICS.
How It Works
The CA-BOTICS robot is suitable for all pipe materials. A special drilling tool cuts a hole in the sewer pipe wall (At no time does the STAR technology compromise the structural integrity of the host post". We do not drill through the pipe wall e.g 15mm hole in a 24 mm thickness pipe), placing an anchor into the cavity as robot fixes a portion of the cable into the anchor. CA-BOTICS utilizes Slim Cable, a specially manufactured fiber cable compatible with the robot's mechanical operation. To finish securing the cable and its anchors, a special welding tool applies a layer of polyethylene.
Advantages:
Strong and simple
Eliminates excavation noise and pollution
Eliminates excavation disruptions
Quick, efficient, and cost-effective
Non-damaging to pipes
Non-obtrusive to sewers
Low-cost materials
Corrosion resistant
Continuously measures gas concentration
Changeable magazines